World's first on-site, fully-integrated Direct Air Capture (DAC)-to-concrete commercial production facility will leverage technology from CarbonBuilt and Aircapture at the Block-Lite manufacturing facility in Flagstaff, Arizona.
FLAGSTAFF, Arizona | March 7, 2023
The 4 Corners Carbon Coalition, a network of local governments committed to addressing the climate crisis with carbon removal, has awarded $150,000 to develop the world's first on-site, fully-integrated direct air capture (DAC)-to-concrete manufacturing facility.
The project will be developed by CarbonBuilt (an ultra-low carbon concrete technology developer), Aircapture (a modular DAC technology developer) and Block-Lite (a concrete products manufacturer).
The process is expected to reduce the embodied carbon of the resulting concrete blocks by more than 70 percent compared to traditional concrete.
How It Works: Direct Air Capture to Ultra-Low Carbon Concrete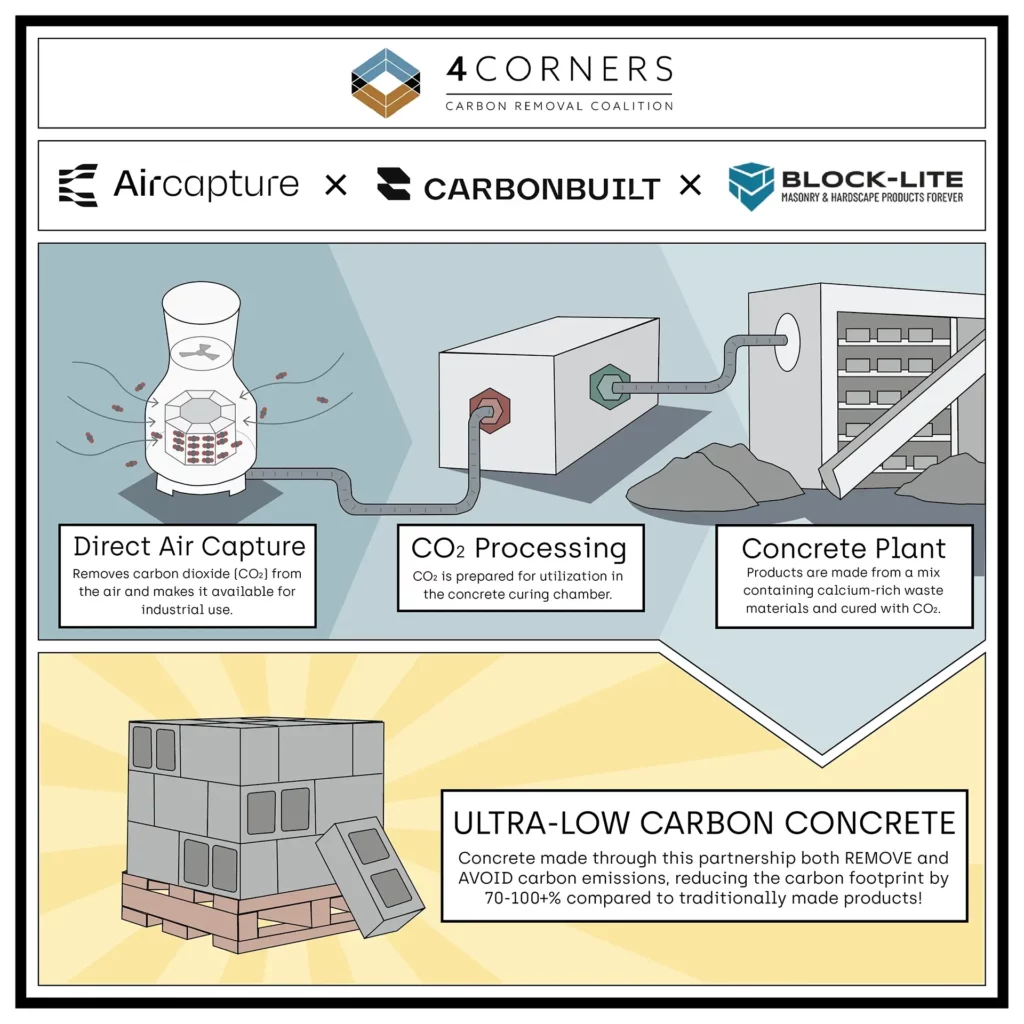 CarbonBuilt will install its patented and XPRIZE-winning technology on-site at Block-Lite. CarbonBuilt's technology dramatically reduces the use of cement in concrete products by replacing it with a proprietary mix of low cost and low carbon industrial waste materials that are sourced locally. It then uses CO2 to cure (harden) the mix into concrete blocks. Critically, the blocks can be sold at price parity, and are compliant with ASTM C90 and other relevant standards.
Aircapture's modular DAC technology reliably supplies commercial and industrial customers with clean CO2 captured from air onsite, when and where needed. The company will build an array of DAC units, each designed to capture approximately 100 metric tonnes of CO₂ per year. The CO2 will be routed into CarbonBuilt's gas processing system to be conditioned before being mineralized and stored permanently as concrete.
CarbonBuilt and Aircapture technologies will be installed at the Block-Lite manufacturing facility, a third generation, family-owned and operated business in Flagstaff, Arizona. The addition of DAC follows a years-long commitment to decarbonization by Block-Lite, which already has installed a large-scale solar array on-site to power its operations.
Environmental Impact
This combination of CO2 avoidance (by reducing cement use) plus CO2 removal (via mineralization) can result in concrete that reduces embodied carbon by more than 70 percent compared to traditional concrete. Collectively, the project is expected to avoid 2,000-3,000 tonnes of CO₂ emissions plus remove more than 500 tonnes of atmospheric CO2 per year per production line.
Enabling a New Model for DAC
This project represents a new model for DAC in several ways. First, atmospheric carbon is not just buried, but treated as a valuable ingredient in a high-volume commercial product. Second, the on-site integration means no cost, complexity or human impact of CO2 transportation. Last, because the technology is integrated at an existing manufacturing plant, there is zero land use impact. Block-Lite and CarbonBuilt become the "anchor tenants" for Aircapture, which intends to establish a broader local market for captured CO₂.
Stakeholder Quotes
CarbonBuilt: "Large scale, durable carbon utilization can play a critical role in driving down the cost of DAC and accelerating atmospheric carbon removal. The concrete industry's scale and global reach uniquely position it as an enabling partner to the DAC industry," said Rahul Shendure, CEO of CarbonBuilt. "We intend for this project to become a blueprint that can be replicated at many of the thousands of concrete manufacturing plants around the world. The grant from Four Corners is a key first step in the overall project plan and we look forward to building on the momentum with our partners."
Aircapture: "Atmospheric carbon dioxide removal and carbon utilization into products is on the critical path to addressing climate change. While the common assumption of industrial carbon application is that of a short lived product, we are demonstrating a novel solution to create permanent carbon storage sinks in our built environment," said Matt Atwood, CEO of Aircapture. "This exemplary project couples industrial decarbonization together with cost savings, carbon removal, job creation and environmental co-benefits."
Block-Lite: "All too often sustainable building materials require a trade off between cost and performance, but what is unique about this project is that there's no 'green premium.' We're going to be able to produce on-spec, ultra-low carbon blocks at price parity with traditional block which should speed adoption and impact."
City of Flagstaff: "Flagstaff knows that addressing the climate emergency this decade will take a portfolio of solutions, some well-known and others that will emerge by supporting new thinking and partnerships," said Mayor Becky Daggett. We're thrilled that Flagstaff will be the site of this first-of-its-kind collaboration."
About CarbonBuilt
CarbonBuilt™, winner of the NRG COSIA Carbon XPRIZE, enables a dramatic reduction in the use of cement in concrete products by replacing it with a proprietary mix of low-cost, low-carbon calcium-rich industrial waste materials. We then use CO2 (sourced from Direct Air Capture, waste biomass or industrial waste) to cure (harden) the mix into concrete blocks.
This proprietary technology, which is installed at existing concrete manufacturing plants, reduces overall CO2 emissions by 70-100+ percent while delivering industry-standard products that meet all applicable standards and create higher margins for concrete producers.
About Aircapture
Aircapture LLC, based in Berkeley, Calif., designs, develops, constructs and operates on-site, modular CO2 capture technologies, located at customer locations, which capture CO2 from ambient and point-source emissions and put it directly into customers' production processes.
The result is greener, cleaner, cheaper products that can help businesses reduce their carbon footprint. For more information, visit https://www.aircapture.com.
About Block-Lite
Block-Lite is a 3rd generation family owned and operated business based in Flagstaff, AZ. The company was purchased by the Ross family in 1995. We exist to equip our customers with high grade masonry and hardscape products that are both durable and sustainable, along with the knowledge and resources to implement them.
Our company strives to be efficient, organized, and innovative while providing quality and viable products. We do this in every effort to emphasize a family atmosphere in the masonry industry and as a company to invest in our staff, customers, and community. For more details, visit https://block-lite.com