Michelle Ma | Original Article: Bloomberg Green
CarbonBuilt has begun producing low-carbon concrete in Alabama
Customer C&C Masonry will buy the concrete masonry blocks
CarbonBuilt, a rapidly growing low-carbon concrete startup, announced on Wednesday that it has begun commercial production of its climate-friendly concrete, together with concrete masonry production partner Blair Block. The companies also have their first commercial customer lined up, marking a major step forward for the three-year-old startup.
Concrete is the most widely used construction material in the world, but efforts to decarbonize its production have been limited in scope until recently. Existing solutions range from either expensive carbon-negative technologies that are far from commercialization to lower-cost, readily available alternatives that deliver limited emissions reductions.
But CarbonBuilt claims its technology — which won the NRG COSIA Carbon XPRIZE in 2021 — is capable of reducing the amount of carbon dioxide emitted during the lifecycle of concrete by 70% to 100%, while costing the same to produce as traditional concrete.
Cement, one of the main ingredients in concrete production, is responsible for more than 7% of global CO2 emissions. This is due to chemical reactions when it's produced and the high heat needed to make it. That's among the reasons concrete is such a carbon-intensive building material.
CarbonBuilt's technology tackles carbon on two fronts: replacing most of the cement in concrete with a proprietary mix of locally sourced, low-carbon material, and piping carbon into the curing chamber used to strengthen the blocks. Doing so permanently stores the carbon in solid form. According to CarbonBuilt, Blair Block's converted production line will avoid at least 2,000 metric tons of CO2 emissions per year. In addition, the plant will remove more than 500 metric tons of CO2 from the atmosphere annually.
That's an exceedingly small amount of carbon pollution. (For context, a 3,000-mile round-trip flight emits about one metric ton of CO2 per passenger.) But it represents the next step in CarbonBuilt's proof of concept.
Crucially to CarbonBuilt's success is that the cost of producing its concrete blocks is on par with traditional concrete.
The company is also able to sell carbon removal credits for additional income. Customers to date include Shopify and Stripe, which have bought the company's services to meet their net-zero commitments.
"One of the beauties of this thing is that the core production economics are better," said Rahul Shendure, CarbonBuilt's CEO and director. "We're taking out one of the most expensive ingredients, which is cement, and we're replacing it with a combination of low-value but easy-to-access industrial materials that deliver, in combination with CO2, the properties we need."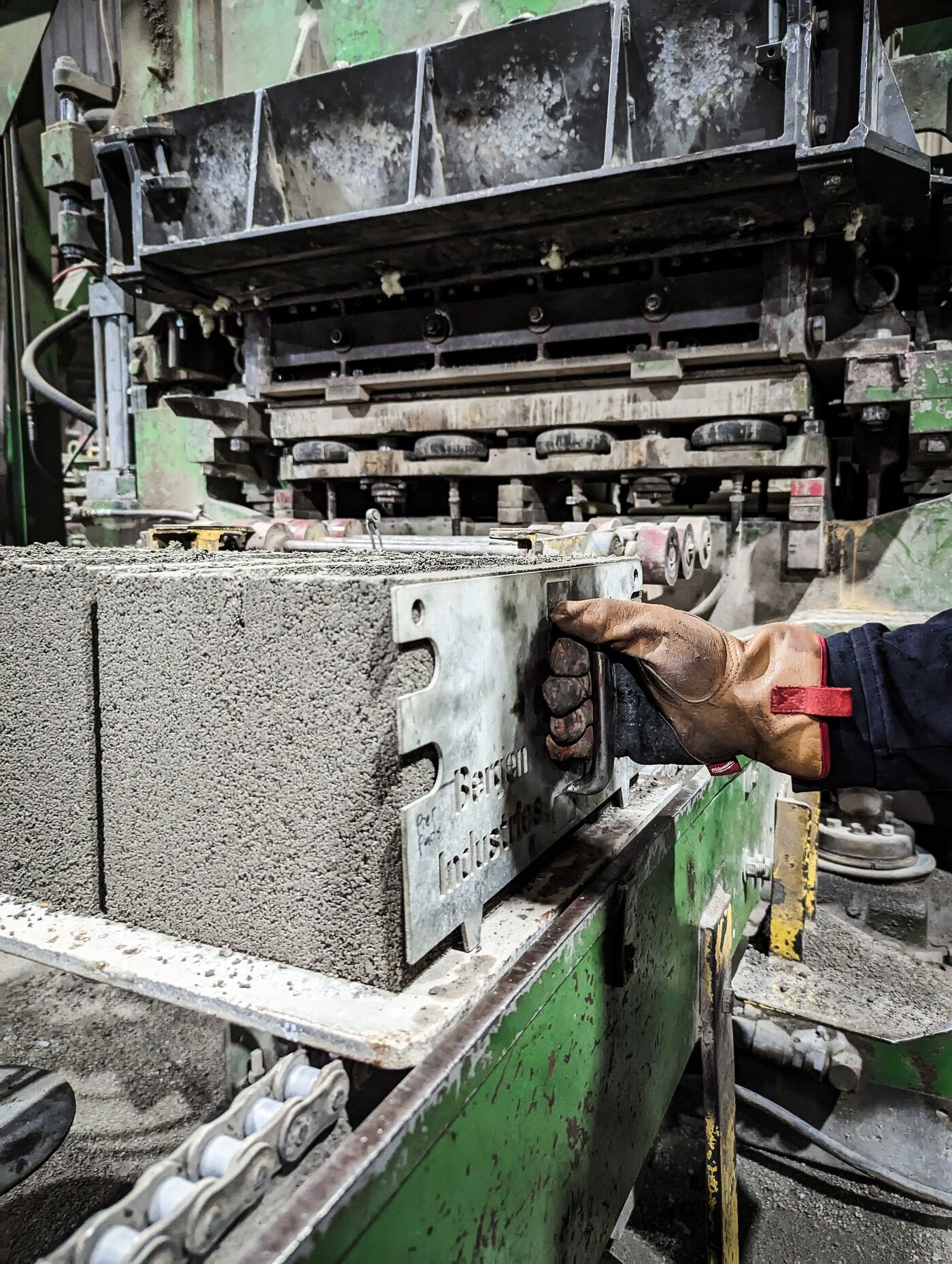 The investment is not without risk for CarbonBuilt's partners. The company and Blair Block co-invested about $2 million into retrofitting one of Blair Block's four production lines, with the expectation that costs will be recouped through the sale of the blocks and carbon credits.
"It was one of the hardest discussions that I've ever had with my parents," said Matt Blair, the co-owner and vice president of Blair Block, whose parents opened the company's first plant in 2007 and are still heavily involved in the business. Blair Block opened its second plant in Birmingham in 2016 and is now the second-largest producer of concrete blocks in the state.
What convinced Blair and his parents to take the low-carbon concrete plunge was the potential benefits to the company's bottom line. The price of cement has increased every year since 2011, according to data from the US Geologic Survey. Most concrete producers operate with razor-thin profit margins, so any technology that can improve them helps, Blair said.
"This is a pretty radical change when you come to people that have been making blocks half their lives and you say, 'We're going to try to do it without cement.'"

— Matt Blair, Co-Owner, Vice President of Blair Block
In addition to having similar costs, the blocks meet the same specifications as traditional concrete blocks and can be readily integrated into any existing and new projects. The first to come off the line will be used by C&C Masonry, a local Alabama contractor that plans on integrating them in several municipal projects across the state, including a firehouse.
"It's business as usual for us," C&C Masonry Owner Scott Cunningham said in a statement.
"Thanks to Blair Block and CarbonBuilt, we're now able to offer a more sustainable option to customers without changing the way we operate, asking our masons to handle heavier blocks or asking our clients to pay more."

— Scott Cunningham, Owner of C&C Masonry
The startup is already in talks with dozens of other concrete producers about completing production line retrofits, according to Shendure. CarbonBuilt estimates that its technology can be rapidly integrated into all of the roughly 800 concrete plants in the US.